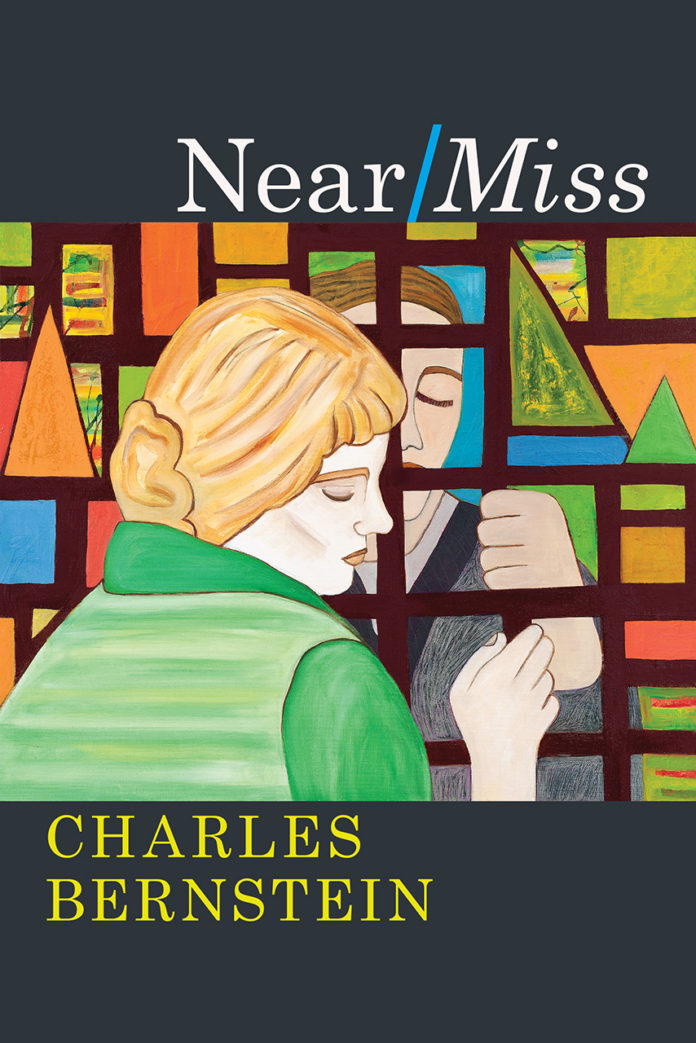 New from University of Chicago Press: paper, cloth, e-book, and audiobook. 
Bernstein's first poetry collection in five years, Near/Miss is the apotheosis of his late style, thick with off-center rhythms, hilarious riffs, and verbal extravagance. The book opens with a rollicking satire of difficult poetry and moves deftly on to the stuff of contrarian pop culture—full of malaprops, non-sequiturs, translations of translations, and a hilarious yet sinister feed of blog comments. Political protest rubs up against epic collage through poems exploring the unexpected intimacies and continuities of "our united fates." Grounded in a politics of multiplicity and dissent and replete with both sharp edges and subtle lament, Near/Miss is full of close encounters of every kind.
"The term for two words in different languages that appear the same but have completely disparate meanings is a 'false friend.' Flip to any page in Charles Bernstein's mercilessly brilliant, no-holds-barred new collection and you will encounter a friend you thought you knew, but this phrase, quotation, proverb, equation, cameo, bit of received language will have been evacuated and filled again by the poet's constructions and reorientations. Bernstein puts words and their groupings, associations, and connotations 'through the wringer,' submitting them to a kind of durability test, so that when we emerge from the theater of one of his poems, rubbing our eyes to adjust to the light, our ossified relationship to the language we use has been pleasantly, productively obliterated. In the genius of Bernstein, a word is a whirl is a world."
—Claudia Rankine, author of Citizen: An American Lyric 
"'Nothing can be truly interesting except the exhaustive,' Thomas Mann wrote a long time ago. Many of these poems suggest a return to that spirit, in a poetry of wit, ideas, and exploration, with both ease and elegance. These are poems you want to put down and pick up again. And when you do, you find something you hadn't seen last time. It's a book I'm glad to have. You'll be glad you have it, too."
—Samuel R. Delany, author of Times Square Red, Times Square Blue
"A major poet for our time — & then some – Charles Bernstein has emerged as a principal voice –maybe the best we have – for an international avant-garde now in its second century of visions & revisions."
– Jerome Rothenberg, editor of Technicians of the Sacred
Near/Miss launches in New York, Washington, D.C., Philadelphia, and Chicago:
•Wednesday, Nov. 7, 7pm,  McNally Jackson Books, with Amy Sillman, Tracie Morris, and Felix Bernstein, 52 Prince Street, New York, NY 10012. (Facebook event page.)
•Monday, Nov. 12, 8pm, Bridge Street Books, 2814 Pensylvania Ave NW , Washington, DC 20007
•Wednesday. Nov. 14, 6pm, Penn Book Center, 130 S. 34th Street, Philadelphia, PA 19104 (FB event page)
•Thursday, Nov. 29, 7:30pm (TBA),  Books Are Magic, with Peter Straub, 225 Smith Street, Brooklyn NY  11231
•Sunday, Jan, 6. 3pm, 57th Street Books, 301 E. 57th St., Chicago, IL 60637
Review of Near/Miss by Feng Yi: "Entanglement of Echoes in Near/Miss," JELL (Journal of English Language and Literature): pdf
Cover image by Susan Bee, Pickpocket (2013, 20″ x 24″, oil on canvas)
A paperback edition of Recalculating was recently published by Chicago.
The audiobook of Near/Miss will be available soon from Audible and from Chicago.